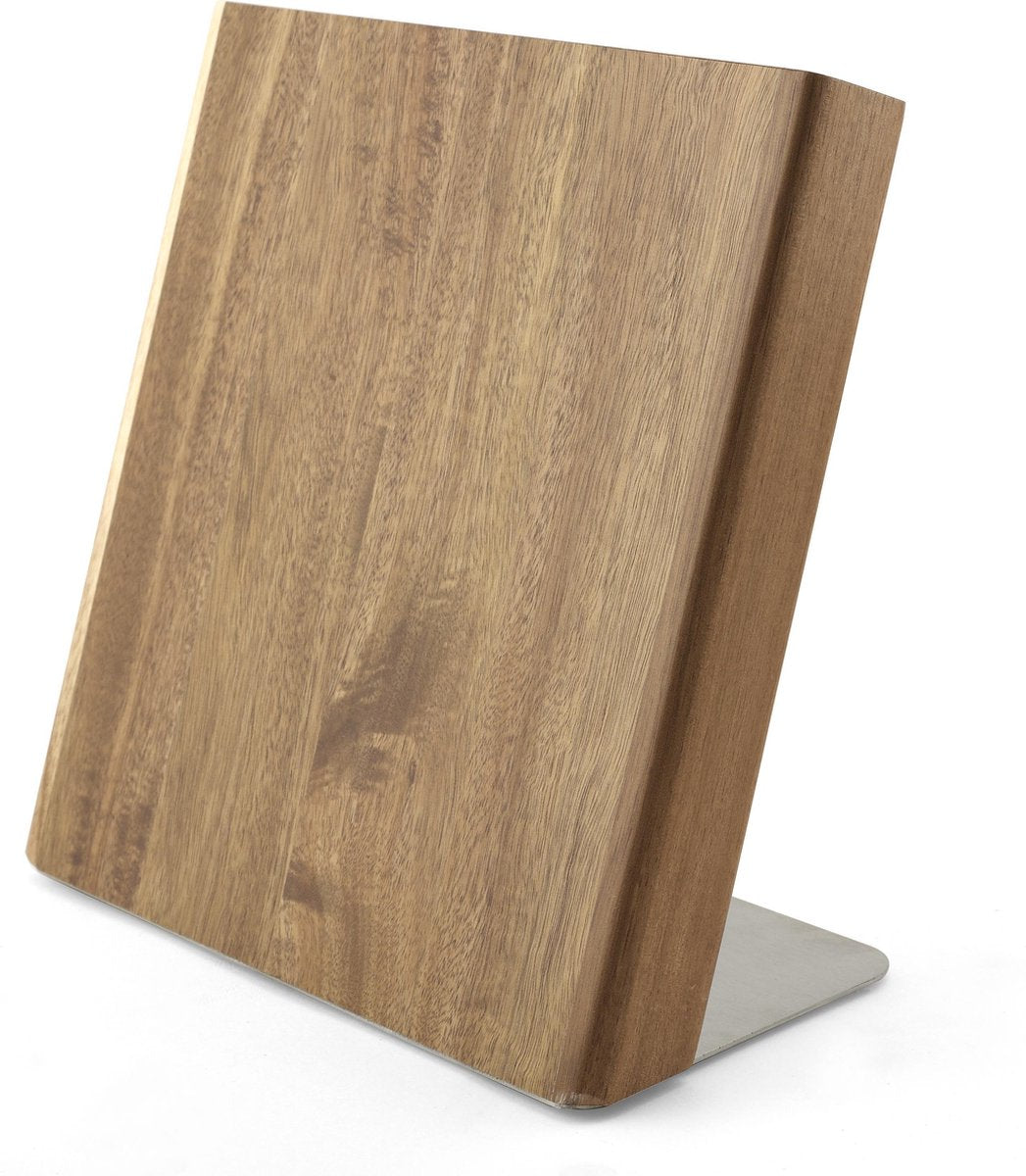 Magnetic knife block without knives - Magnet Knife holder Acacia from Coninx - Magnetic Knife Holder with Strong Magnet
Sale price

€39,95
Incl. VAT
Order before 16:30h, delivery within 2-5 business days
Bekijk op Bol.com
Product Descriptions
MAGNETIC KNIFE STAND WITH ELEGANT DISPLAY: Why fuss with a boringly average knife holder magnetic when you can display one of these beauties? Made out of all-natural acacia wood, our knife holder without knives is just as stylish as functional.
STRONG & STURDY KITCHEN KNIFE HOLDER: Though it displays nicely on a countertop, the wooden knife block is strong & reliable and as appealing as an elegant bamboo knife block. Acacia wood is also unbelievably easy to clean, 100% sustainable & safe for use in the kitchen.
SAFE NON-SLIP BASE: Finished with slip-proof anti-skid felt pads on the bottom, our wooden knife block only is safer to use on slippery countertops than ordinary blocks. No more skidding, slipping, sliding, or wobbling around with this stylish and functional knife holder kitchen accessory!
POWERFUL MAGNET KNIFE HOLDER: The super-strength hidden magnet built into this wood knife block without knives draws the metal tip of your kitchen knife when inserted, thus making it easier, quicker & safer to store your knives.
STYLISH KITCHEN KNIFE HOLDER: This luxurious acacia wood knives holder is sleek, stylish, and functional! With its elegant look and special features, it's the perfect wooden magnetic knife holder solution for anyone who appreciates style and good food.
Materials
Acacia Wood
Warranty And Services
Warranty and Service
A 30-day return policy applies to your order.
When you order from us, you can be sure that you are ordering a premium-quality product. We apply a special warranty plan on our products, which are covered for a minimum of two years. The manufacturer's warranty may apply in addition to the statutory warranty, increasing the total warranty to up to ten years. If your product comes with a manufacturer's warranty, you will find the details in the user's manual.
Our guarantee:
A warranty period of at least 2 years
The warranty is effective from the date of delivery
You are entitled to free spare parts for reparation or to a replacement
The cost of shipping will be charged to the supplier and the return shipping costs will be at our expense.
The warranty does not apply to:
Damage due to improper use
Parts affected by wear and tear
Defects or faults that are already known at the time of purchase. If this occurs, please contact our customer service team immediately.